A subsidiary of the Port of Strasbourg since January 2016, Batorama is: 800,000 passengers/year from all over the world, 11 tour boats, the leading paying tourist activity in the area. Since 1947, the Port of Strasbourg's passenger transport department has been working to introduce partners and industrialists to the new port facilities. The PAS quickly felt the potential of its visits between the Rhine and the port basins.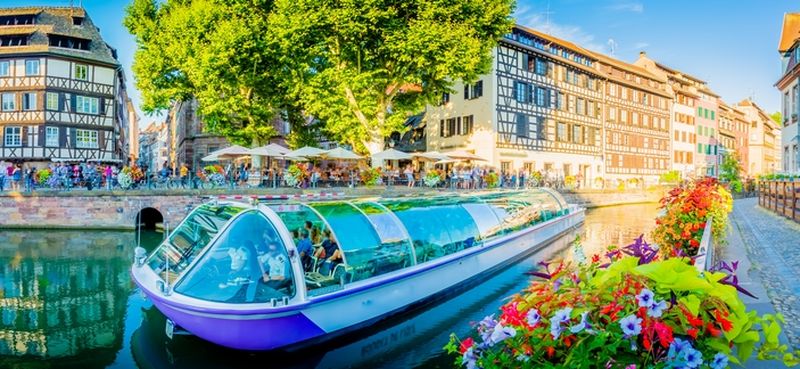 In 1953, he acquired the Strasbourg, then another boat in 1957 capable of passing under the city's bridges. Urban navigation on the Ill then became possible. The PAS enlarges its fleet and develops its offer of tourist visits in the city centre to make it the largest paying tourist activity in the Grand Est: Batorama.
Optional
Tours
BATORAMA, Strasbourg's tour boats, offer a 70 or 45 minute tour of the city all year round. Batorama is the number one tourist activity in the Grand Est region, and allows you to discover the essential sites of the Alsatian capital, in particular the Petite France district, the "Neustadt" or imperial district, as well as the European institutions, on board covered and air-conditioned boats, or uncovered in good weather. The commentary for these tours is provided by individual headphones in twelve languages (French, German, English, Dutch, Spanish, Portuguese, Italian, Russian, Arabic, Korean, Chinese and Japanese) and children also have a fun version in four languages (French, German, Italian and English).
Complément
La boutique se trouve place de la Cathédrale à quelques mètres de l'entrée de la Cathédrale.
L'embarquement pour l'essentiel de nos croisières se fait place du Marché aux Poissons, à 150m de la cathédrale.
Horaires d'ouverture
Horaires : plusieurs départs dans la journée (consultez site internet)
Réservation
Nécessaire de se présenter à la boutique pendant la validité du Pass'Alsace pour valider votre créneau. Vous pouvez également réserver votre créneau par mail à info@batorama.com. Il suffira d'indiquer vos numéros de Pass'Alsace, jour et horaire souhaité, adresse postale, mail et numéro de téléphone.
Attention, ne vous présentez pas directement sur les quais sans avoir choisi votre créneau !
Public price
Adult : €14.90
Kid : €8.25

Price with the pass
Adult : Free
Kid : Free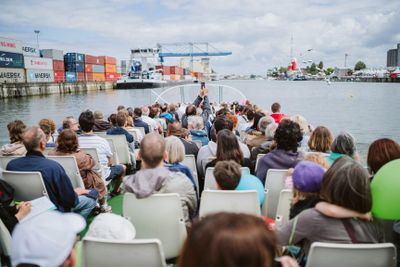 Tours
Strasbourg's Notre-Dame Cathedral is one of those must-see places when you visit Strasbourg. At BATORAMA, we love it with a passion. Which is why we have devised an audio guide service, in tandem with the Cathedral authorities*, which presents 42 points of interest: POPGUIDE Strasbourg.
You are greeted by the Right Reverend Luc Ravel, Archbishop of Strasbourg, who reminds us that this astounding feat of construction, "a prodigy of the gigantic and the delicate" as Victor Hugo put it, is already 1,000 years old.
1,000 years, during which it has witnessed the complex stream of history, which few other regions in France can claim to have known. Passing from Catholicism to Protestantism and vice versa, changing nationality at the whim of wars and political accords until the middle of the 20th century, Strasbourg Cathedral has overcome the vicissitudes of history like an immutable symbol, survived fires, storms and bombs to stand before you in its gorgeous regalia of pink sandstone.
Complément
Il est nécessaire de vous rendre à la boutique Batorama au centre-ville de Strasbourg pour récupérer les accès à l'application mobile.
Public price
Adult : €4.00
Kid : €4.00

Price with the pass
Adult : Free
Kid : Free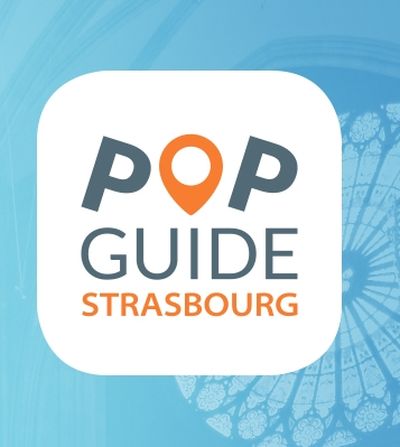 Accessibility
Hearing impairment


Batorama provides a written commentary of the tour for the hearing impaired.

This booklet, available in 12 languages, contains visual cues and photographs to help visitors find their way around the exhibition.
Access conditions



On line 10, at the Corbeau or Bateliers stops.

On lines 14 and 24, at the Ancienne Douane stop.




BATORAMA is located in a pedestrian area. We advise you to leave your car in a Tram car park on the outskirts of Strasbourg or in the Gutenberg or Austerlitz car parks, just a few minutes walk from our shop and our boats.




On the A and D lines at the Porte de l'Hôpital or Langstross/Grand Rue stops.

Pedestrian access


Your landmark is the cathedral. When you look at its façade :

the Batorama shop is on the left.
The Batorama piers are on your right as you walk down either rue des Rohan or rue du Maroquin.