The Unterlinden Museum is housed in the former Dominican convent of Unterlinden, founded in the 13th century. An important monastic complex in the 14th and 15th centuries, the convent became a centre of Christian mysticism in the Rhine Valley. After the departure of the nuns during the Revolution, the buildings became the property of the city of Colmar and were transformed into military barracks.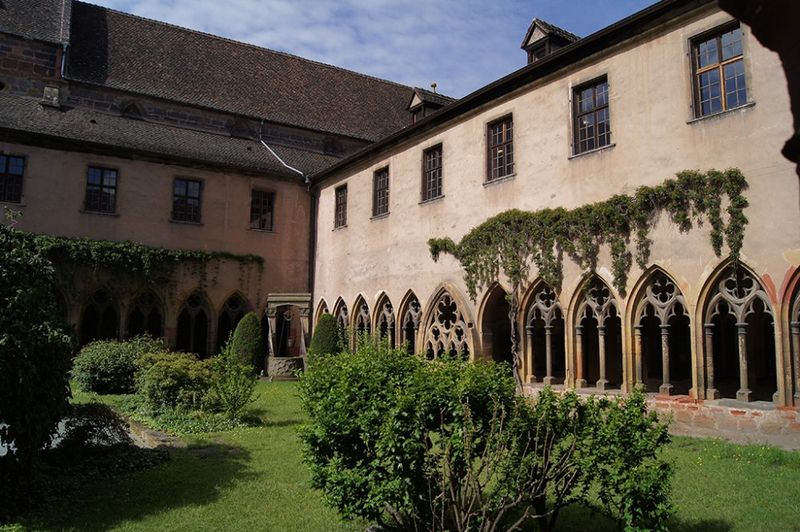 In the middle of the 19th century, when the former Unterlinden convent was slated for demolition, Louis Hugot, archivist and librarian for the city of Colmar, sought to save the building. In 1847, he founded the Schongauer Society. In 1848, a spectacular archaeological discovery contributed to the birth of the museum: a Gallo-Roman mosaic unearthed in Bergheim was placed in the convent chapel. In 1852, the works of the revolutionary museum were transferred to the former convent. The museum managed by the Schongauer Society opened its doors to the public in 1853, presenting a collection of sculptures and painted panels from the Antonine commandery in Issenheim.
Museums
It leads to the new architecture, the Ackerhof, named after the convent's former farmhouse. More than ever, the Musée Unterlinden displays its encyclopaedic collections. The visit is enhanced by a number of areas: the cloister garden, the museum orchard, a café, a shop, etc.
Having doubled its exhibition space since the end of 2015, the Museum now displays its collections on nearly 8000m². The Museum offers a tour covering nearly 7000 years of history, from prehistory to 20th century art.
Horaires d'ouverture
Mercredi au lundi : 9h – 18h
Mardi : fermé
Clôture des caisses 30 minutes avant la fermeture du Musée.
Jours fériés de fermeture : 1.1., 1.5., 1.11., 25.12
Public price
Adult : €13.00
Kid : Free

Price with the pass
Adult : Free
Kid : Free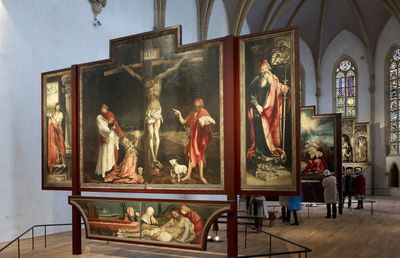 Accessibility
Physical disability

Visual disability




The entire Unterlinden Museum is accessible to people with reduced mobility. People with reduced mobility can access all the rooms. Prams, wheelchairs and walkers are now easily accessible thanks to the lifts and inclined planes.

The Musée Unterlinden offers wheelchairs for visitors who have difficulty moving around, standing for several hours or visiting the museum independently.

Accepted animals


Guide dogs are allowed.
Access conditions



Bus from the station to the Museum: lines 1, 3, 4, 5, 7, 8 ;

Get off at the Theatre stop.




Follow city centre

Car parks: Mairie, Lacarre, Scheurer-Kestner




To get to Colmar, regional trains from Basel or Strasbourg every 30 minutes.

From the station to the museum, on foot: 15 min walk.